1 Screen to Rule Them All: Tesla Model 3 All-Purpose Touchscreen Tested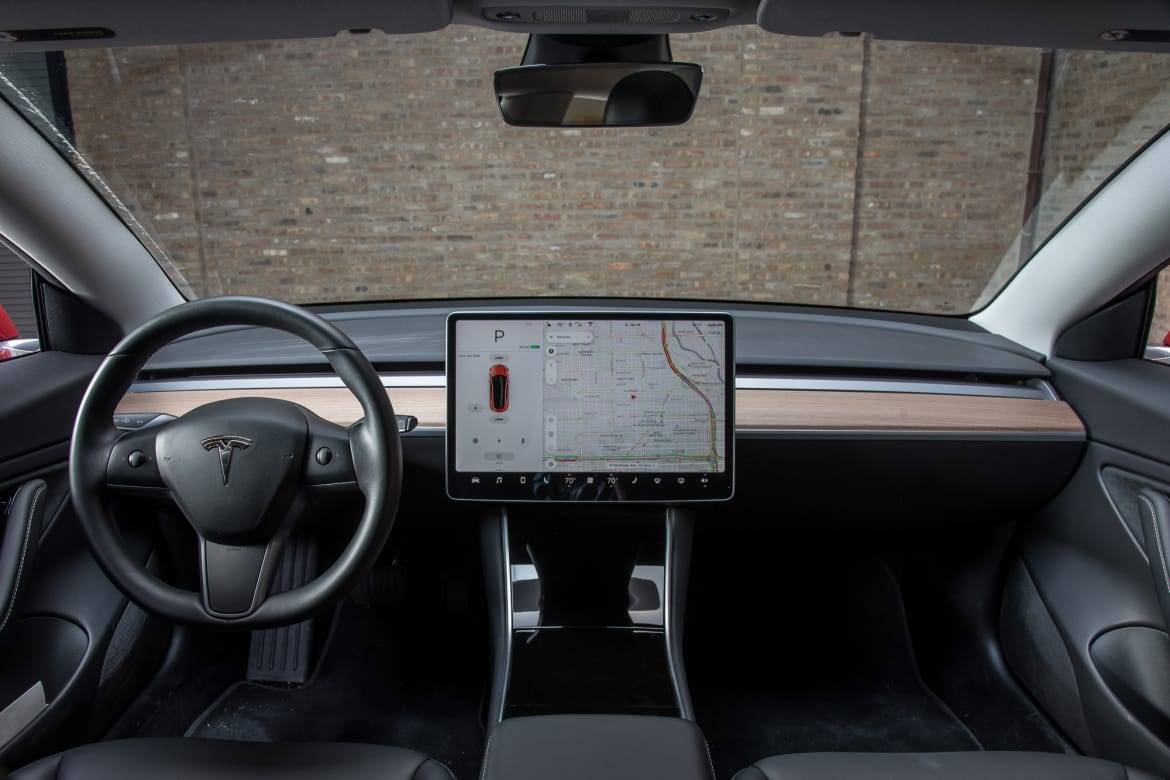 From its focus exclusively on electric cars to the way it sells and services them, Tesla has charted its own course nearly every step of the way. Knowing that, it's not surprising that the automaker wouldn't feel compelled to put a traditional 8- or 10-inch screen in the dashboard of its Model 3 compact luxury sedan. Instead, the Model 3 has a 15-inch touchscreen mounted in front of the dashboard that's the main interface for most vehicle systems — everything from the direction of the dashboard vents to the navigation system.
Related: Video: We Take a Deep Dive Into the Tesla Model 3
Consolidating so many features in the touchscreen has let Tesla craft a sleek, minimalist cabin that's mostly free of buttons, switches and knobs. It's a striking, futuristic look, but is the large touchscreen the epitome of simplicity or an exercise in frustration? After driving the Model 3 and using the screen, the answer depends on what you're trying to do.
The Good
With its crisp, clear graphics, the touchscreen has the high-quality appearance of an Apple iPad, and its iOS-like onscreen menus reinforce that impression. The screen responds to familiar smartphone gestures, like pinch-to-zoom for the navigation map and swiping up or down to bring up or dismiss the radio station list. More importantly, the screen responds quickly; I didn't notice any lag when switching between menus or making selections.
There are also some whimsical elements. The touchscreen has a sketchpad for doodling or taking notes and, in a tip of the cap to Elon Musk's SpaceX venture, you can switch the navigation map to the surface of Mars, with your position noted by a small rover. It's the kind of quirky-but-fun thing that a mainstream automaker would never bother to add, and is another instance of how Tesla and its cars stand apart.
The Bad
While Tesla has packed a lot of functionality into the touchscreen, it's missing some important features and has a few usability problems.
Perhaps the biggest missing features are Apple CarPlay and Android Auto connectivity, which bring smartphone features like music apps to your car's dashboard screen in a familiar, easy-to-use way. The Model 3's large screen seems like the perfect spot for CarPlay and Android Auto, which are best experienced with a touchscreen. But without them, you're left with other connectivity methods like Bluetooth.
Though not specifically a problem with the screen itself, the stereo system's lack of an AM radio band manifests itself through it. Tesla gets around this by including a one-year trial of its Premium Connectivity that supports streaming services like TuneIn, which simulcasts thousands of stations. So, if you like to listen to AM talk radio or news shows, you can use TuneIn — and they'll sound better than the typical AM broadcast, too. Premium Connectivity also supports the navigation system's satellite map view and real-time traffic information.
Creating touchscreen-based controls for features normally operated by buttons and switches has created some usability problems in the Model 3. Windshield-wiper speed and the position of the side mirrors, steering column and dashboard vents are all controlled by onscreen menus. The car can store up to 10 driver profiles that recall side mirror and steering column positions, among other things, so once you've adjusted everything to your liking, you shouldn't have to go into the touchscreen menus again. But the decision to move these controls to the screen and then pair them with the steering-wheel-mounted thumbwheels, which are used to make adjustments, is something of a modern-day Rube Goldberg machine. Even the car's heated rear seats are controlled by the touchscreen, putting them out of reach of backseat passengers. 
Lastly, the Model 3's touchscreen doesn't work when wearing ordinary gloves — you need the kind that are designed to work with smartphones. You can remotely precondition the Model 3's cabin to make sure it's warm by the time you're ready to go, but if you're unable to do so and don't have the right kind of gloves for the touchscreen, your fingers might freeze for a bit while the cabin warms up.
The Verdict
The Model 3's touchscreen is the star of the interior, and it's mostly successful thanks to a thoughtful interface, useful features and rich graphics. And with Tesla's commitment to over-the-air software updates, the system should age better than most automotive screens. Even so, there's a lesson to be learned from the feature-packed screen, and it's not a new one: Just because you can put a function in a touchscreen doesn't necessarily mean you should.
Cars.com's Editorial department is your source for automotive news and reviews. In line with Cars.com's long-standing ethics policy, editors and reviewers don't accept gifts or free trips from automakers. The Editorial department is independent of Cars.com's advertising, sales and sponsored content departments.