10 Cars for $10K: The Best Used Cars for $10,000
CARS.COM — At Cars.com, we focus on new cars, but when it comes to overall car sales, used cars own the field. CNW Marketing Research reports shoppers bought more than 40 million of them in 2012, the highest total since 2007. For every new car sold, nearly three used cars changed hands.
Related: Used Cars Still Expensive, But Prices Are Falling
Shoppers are still taking the used route despite near-record used-car prices, which soared so high that we suspended our $10,000 used-car recommendations — once a regular Cars.com feature — for two years. Blame the recession, which slashed new-car sales and the resulting supply of late-model used cars that are typically traded in for them. Used-car prices are coming back to earth, according to Manheim's Used Vehicle Value Index, but that's not to say used-car prices are low again. They have ebbed enough to give $10K cars another go.
We looked at any cars from 2006 or later — more model years than we usually consider. Restricting the pool by another model year or two would have left us with very few candidates that meet our reliability and safety standards.
Here are 10 late-model pre-owned vehicles we recommend that you should be able to find for around $10,000. They're listed alphabetically by manufacturer: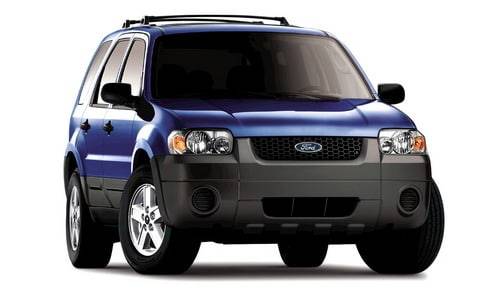 2006 Ford Escape: If the original Escape seems ubiquitous, it's because Ford sold 1.05 million of the small SUV between 2000 and early 2007 — more than either the Honda CR-V or Toyota RAV4. Ford's first-generation crossover had trucklike styling but car-based underpinnings, and the driving experience combined handling and ride comfort in a way that few car-based crossovers of the Escape's era — let alone any truck-based SUVs — could match. Nearly 70 cubic feet of maximum cargo room bolsters the Escape's utility, and available on-demand all-wheel drive should help drivers conquer light snow.
Find this car near you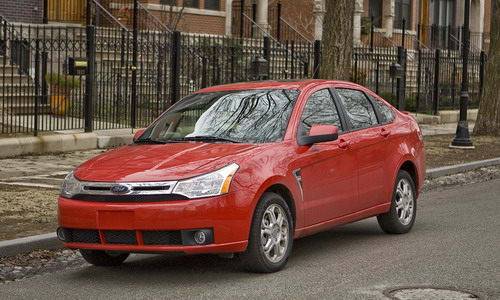 2008 Ford Focus: Your teen driver may clamor for a Mustang, but this Ford is a far more sensible choice. Important safety features like side curtain airbags became standard in '08, and the Focus was also an early adopter in its class for Bluetooth and USB/iPod stereo integration. The slab-sided styling and button-strewn interior haven't aged well, but the car's sharp handling distinguished it from some of its compact rivals. Three trim levels and two body styles — a sedan and a coupe — should provide options for everyone.
Find this car near you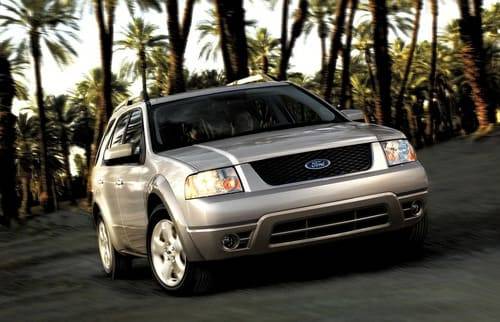 2007 Ford Freestyle: Need a budget family hauler? The Freestyle could be your ticket. The mid-decade styling suggested an oversized wagon, but clever packaging created unexpectedly spacious second and third rows. Seating maxes out at six or seven, depending on the second-row configuration, and folding those seats down opens up nearly 90 cubic feet of cargo room. All-wheel drive was optional on the Freestyle, and some versions built later in 2007 added standard side-impact and curtain airbags, which were optional on early-build '07s.
Find this car near you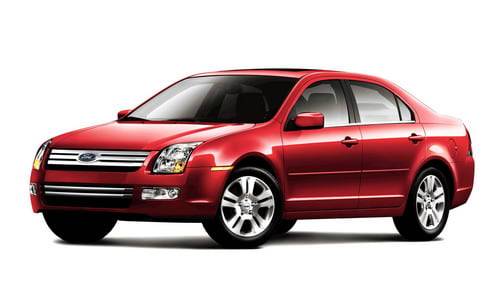 2007 Ford Fusion: A responsive V-6 engine option and decent handling chops distinguished Ford's mid-size family car. So did trunk room, which remains spacious even by today's family-car standards. All-wheel drive was optional, and like the Freestyle, the Fusion got standard side-impact and curtain airbags midway through the 2007 model year. (Early 2007 builds offered them as an option.) Check the build date, typically on the driver's doorjamb: Fusions built after January 2007 had changes made to the door trim to help earn it better side-impact crash test ratings.
Find this car near you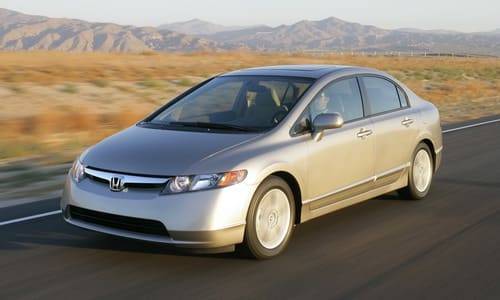 2006 Honda Civic: When Honda unveiled a redesigned 2012 Civic, people praised the prior car, which Honda built from 2006 to 2011. (Honda's emergency refresh of the 2012 thankfully made some amends.) This is the beloved eighth-generation Civic, whose interior quality, fuel efficiency and overall drivability impressed so much that they still hold up today. Coupes and sedans come in a range of trims, and all versions have standard antilock brakes and six airbags.
Find this car near you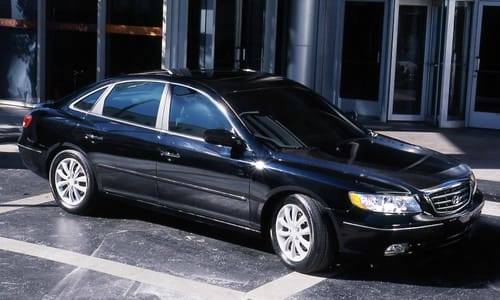 2006 Hyundai Azera: If you're looking for a full-size sedan, the Azera is a better choice than other similarly priced boats of the era. A full-size sedan with upscale creature comforts, the Azera packed a comfortable, if floaty, ride. Big engine, big backseat? Check, check. It's hardly a looker, but the Azera married Hyundai's characteristic value with decent quality. The geezers might think you're one of them, but the Azera need not come with an AARP membership; it's a decent choice.
Find this car near you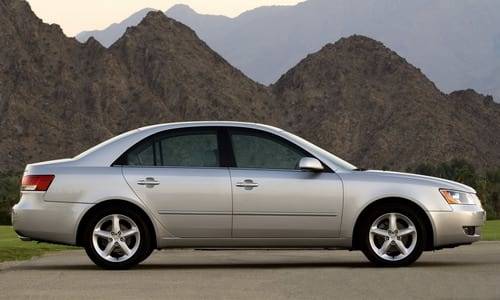 2007 Hyundai Sonata: A competitor to the Honda Accord and Toyota Camry, the last Sonata documented Hyundai's meteoric rise. It's easy to see why. Between 2005 and 2010, the Korean brand's market share rose 73 percent as shoppers ate up its value proposition and bought cars like the Sonata — a family sedan with roominess, safety features and value in spades. Years later, a used example should still suit you well. Find one with the optional 3.3-liter V-6 for muscular passing power.
Find this car near you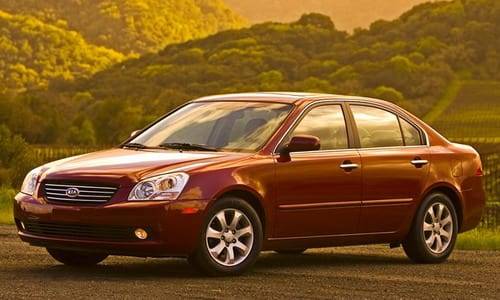 2008 Kia Optima: Kia is a Hyundai sibling, and the Optima is a cousin to the Hyundai Sonata. Kia's version had more available luxury features but blend-in styling and a smaller V-6. Skip that engine, which doesn't lend much extra oomph versus the adequate four-cylinder. A roomy backseat and decent standard safety features round out a car whose successor won Cars.com's Best of 2011 award. The old Optima fell well short of the honor, but it's a lot of used car for the money.
Find this car near you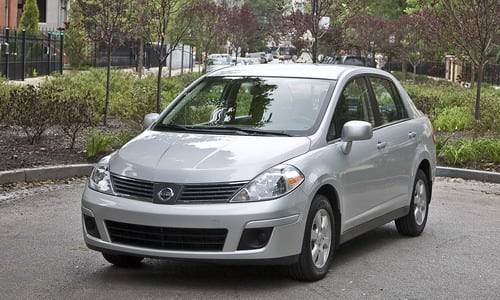 2008 Nissan Versa: Nissan's unexpectedly roomy Versa slips into tight city parking spots like any proper subcompact should. A responsive continuously variable automatic transmission combined with a larger four-cylinder than most competitors' engines to provide sprightly stoplight power, albeit with some loss of gas mileage. Cargo room was decent, but for such a small car the Versa shined in seating space, which remains impressive even today.
Find this car near you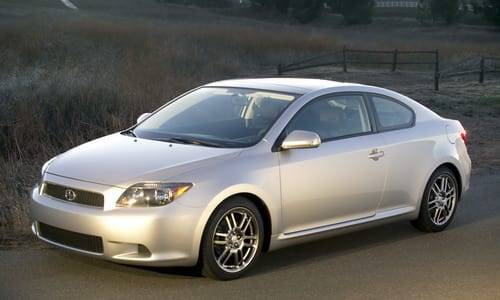 2007 Scion tC: After years of marketing funky hatchbacks, Toyota's youth-oriented division introduced a sleek coupe to replace the automaker's front-drive Celica. We liked the original tC better than its cost-cutting successor. Strengths included rich cabin materials and a responsive four-cylinder engine; look for the available five-speed manual for more fun (a four-speed automatic is also offered). This is a tuner's paradise, too, with untold modifications available through the aftermarket or through Toyota's TRD performance division.
Find this car near you
Editor's notes: The used-car market is unpredictable, so you may be able to negotiate a better deal for one of these cars or get a better-equipped model for the same price. Of course, all prices may be above or below $10,000 depending on the condition of the car and where you live. Remember, too, that today's $10,000 car won't be the same price weeks or months from this publish date.
We looked at Cars.com listings for vehicles that had sufficient examples in our national inventory. You may be able to bargain down a listed price by $1,000 or more, but plan for the customary fees associated with buying any car, including sales tax, license, title and registration, plus any financing costs. Factor in the cost of an independent mechanic's inspection. To make our list, the cars we considered had to pass crash tests and come with standard safety features; available safety features should be easily found in your search. We also analyzed reliability, drivability and practicality.
Keep in mind that buying a used car is going to rely a great deal on the stewardship of the car's previous owners. While these cars met our criteria, every previous owner is different. Some owners baby their cars; others destroy theirs through abuse, neglect or misuse. Make sure you get your car checked out before you agree to any deal.
Sources for safety equipment and crash-test scores include the Insurance Institute for Highway Safety, the National Highway Traffic Safety Administration and automaker data. Information on vehicle features comes from automaker data, and reliability scores come from Consumer Reports and J.D. Power and Associates' Vehicle Dependability Study. Used-car prices come from Cars.com data, and availability of various safety features comes from surveying national used-car listings.
Cars.com's Editorial department is your source for automotive news and reviews. In line with Cars.com's long-standing ethics policy, editors and reviewers don't accept gifts or free trips from automakers. The Editorial department is independent of Cars.com's advertising, sales and sponsored content departments.