19 New Booster Seats Earn IIHS' Best Bet Title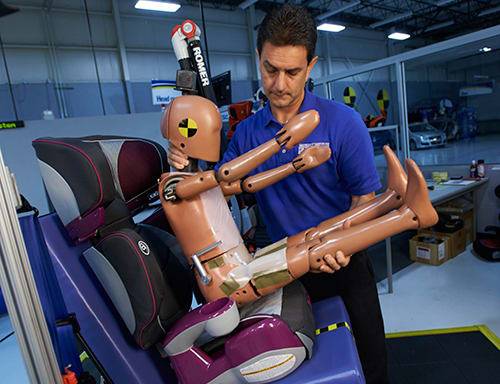 Not all booster seats are created equal, according to Insurance Institute for Highway Safety evaluations. This year, IIHS tested 31 new booster seat models and found that just 19 qualified as a Best Bet, the top rating; one booster received the Good Fit score and 11 fell into the Check Fit, meaning the booster offers good fit for some kids, but not all.
"Parents should have an easy time finding a top-rated booster seat since there are more this year than ever before," Anne McCartt, IIHS senior vice president for research, said in a statement. "At the same time, consumers should continue to consult our ratings before buying because name brand, price and style don't always equate with proper lap and shoulder belt fit."
Booster seats are for kids, ages 4 and older, who no longer fit in a forward-facing child-safety seat. Seat belts are made for adults, so a booster raises up children, allowing the seat belt to be positioned across their chests and laps.
In IIHS' ratings, a Best Bet booster seat positions the seat belt so it is snug on a 4- to 8-year-old child's upper thighs — not abdomen — and the shoulder strap is across the shoulder and chest — not on the child's neck or face. A Good Bet has acceptable seat belt fit in most cars. The Check Fit designation means the booster offers good seat belt fit for some, but not all, children in some vehicles. If considering a booster seat with a Check Fit designation, parents should install the seat in the car they will use it in and check the seat belt's position on the child. The lowest rating is Not Recommended.
While none of the boosters tested in this round received the lowest score of Not Recommended, two booster seats, which were tested previously by IIHS and remain on the market, have received the lowest score: Safety 1st All-in-One and Safety 1st Alpha Omega Elite. Both are 3-in-1 child-safety seats that can be used in rear- and forward-facing positions without problems, but when the seats are switched to a booster by removing the harness and using the seat belt to restraint the child, the lap belt is positioned too high on the stomach and the shoulder belt sits too far out on the shoulder.
Combined with booster seat models that IIHS evaluated in previous years but are still on the market, there are more than 100 booster seats when this year's 31 models are added to the list.
Generally, booster-seat designs have improved since IIHS started evaluating them, but this year, three new Britax boosters — the Frontier 90, Pinnacle 90 and Pioneer 70 — earned Check Fit status. These seats replaced Britax boosters that had Best or Good Fit ratings.
Both the new Britax boosters and the Not Recommended boosters from Safety 1st are proof that parents need to continue to be vigilant when picking out a booster seat for their child.
IIHS counts booster seats that can be used in highback and backless modes — known as dual use — as separate models and notes which mode received the rating. Check out the full list below.

Related
Car Seats 101 Video
More Car Seat Checks
More Family News