Two Jeep Grand Cherokee Recalls in Two Days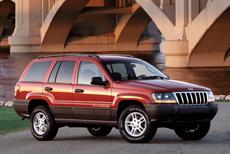 Today DaimlerChrysler announced that it's planning a recall of 131,500 2000 and 2002 model year Grand Cherokees due to a faulty cooling fan that could actually become detached, break through its cover and cause bodily injury.
This comes on the heels of yesterday's announcement that defective heated seats in Grand Cherokees can overheat and catch fire. But unlike the seat recall, the fan has yet to cause any injuries, despite more than 160 complaints.
And like yesterday's recall, this is a serious one and owners of 2000 and 2002 Grand Cherokees with a 4.0-liter six-cylinder engine should contact their dealer about service.
[DaimlerChrysler AG Recalls Grand Cherokees, AP]