2007 Matrix Loses AWD, Gains Special Edition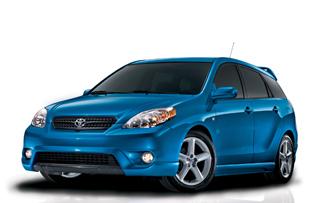 When the Toyota Matrix and its Pontiac Vibe step-brother debuted they represented a major step toward breaking Americans' aversion to compact hatchbacks. Now the 4-year-old Matrix and Vibe are trying to keep up with a lot of new competition from Dodge, Jeep, Mazda and even Chevy. For 2007, Toyota has decided to discontinue the all-wheel-drive version of the Matrix and the more-powerful Matrix XRS.
Instead, buyers can get either the standard Matrix ($15,260) or the XR ($17,570). A new M-theory package, shown here, costs $1,500 and adds plenty of exterior doo-dads, four-wheel disc brakes, a strut brace and a sport-tuned suspension. Only 2,500 M-theory special editions are available and add no additional power over the 126 hp from the standard and XR editions. With no high-powered or AWD models to make them competitive, it looks like the run is over for the Matrix and Vibe as segment-leading models.
[Source: Toyota]