832,000 Jeep Liberty SUVs Recalled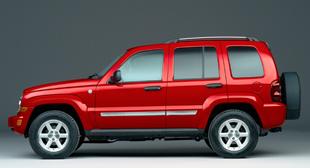 832,000 2002-2006 Jeep Liberty SUVs have been recalled to address a possible loss of steering. That includes virtually every Liberty ever produced. The problem arises from a ball joint that could wear down faster than it should, ultimately failing completely and forcing the front end to drop onto the front tires. This would obviously cause a loss of steering control and has accounted for three injuries and 111 other customer complaints to Chrysler. This is the second major recall for the Jeep Liberty's suspension.
A recall notice will be sent out in September, but if you own a Liberty you should contact your dealership to schedule an appointment as soon as possible. There will be no charge for service and parts due to the recall.
[Jeep Recalls 2002-2006 Liberty SUV, Washington Post]