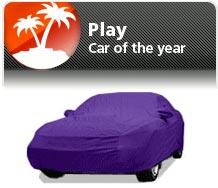 This is part two of our series where we let you – the readers – inside our decision-making process for our first annual Lifestyle Awards. Today we take on our Play Car of the Year winners and runners-up. We'll tackle the two remaining Lifestyle categories as we get closer to the final awards on Jan. 3.
Best New Car for Off-Roaders: 2007 Land Rover Range Rover
Runners-Up: Hummer H2, Hummer H3, Jeep Grand Cherokee, Jeep Wrangler, Land Rover LR3, Mercedes-Benz G500, Nissan Xterra, Subaru Outback, Toyota FJ Cruiser
The Debate: Our selections were made before a new Jeep Wrangler was available for testing, otherwise the outcome may have been different. There's always next year, Jeep. Otherwise there wasn't much debate because not only is the Range Rover a tremendous off-road machine, it's also ultra-luxurious.
Best New Car for Weekend Athletes: 2007 Subaru Outback
Runners-Up: Chevrolet Avalanche, Honda CR-V, Honda Odyssey, Honda Ridgeline, Hyundai Tucson, Nissan Frontier, Pontiac Vibe, Subaru Forester

The Debate: We're not sure how some of these even made the list (Nissan Frontier?), but the Ridgeline had some support as a weekend warrior for active people. In the end, we decided that bikers, hikers, skiers, decathletes and anyone else who's game for an excursion will find the Outback a perfect choice.
Best New Car for Sun Lovers: 2007 Volvo C70

Runners-Up: Ford Mustang, Jaguar XK, Lexus ES 350, Mazda MX-5 Miata, Mini Cooper S, Pontiac Solstice, Saturn Sky, Scion tC, Volkswagen Eos
The Debate: For convertibles and other open-roof cars, nothing stood out to our entire staff as much as the Volvo and its innovative roof, handsome styling and pleasing mix or road manners and practicality.
Best New Car for The Towing Crowd: 2007 Chevrolet Suburban
Runners-Up: Cadillac Escalade, Chevrolet Avalanche, Chevrolet Tahoe, Dodge Ram, GMC Yukon, GMC Yukon XL, Hummer H2, Land Rover Range Rover
The Debate: The only question we had in picking the best vehicle for towing in comfort was which new GM full-size SUV to choose as the winner. In the end we went with the largest and most capable: the Chevrolet Suburban. Still, we'd take any of the GMs on a long ride to the lake, towing the old boat.
Next up will be our look at the Work Car of the Year.
Related:
Family Car of the Year Runners-Up