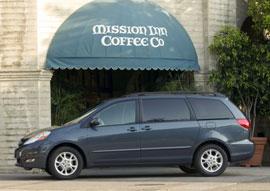 Ford and GM may be getting out of the minivan business, but Toyota is putting a new, more powerful engine into its 2007 Sienna. The new 3.5-liter V-6 gains 51 horsepower over the outgoing engine, for a total of 266 hp. That nice power boost doesn't add much more to the sticker, with the average MSRP increasing just $281. Click below for full pricing of the 2007 Sienna, which goes on sale later this month.
CE 7-Passenger 2WD $24,155
CE 8-Passenger 2WD $24,305
LE 7-Passenger 2WD $25,680
LE 8-Passenger 2WD $25,830
XLE 2WD $30,125
XLE LIMITED 2WD $35,465
LE 7-Passenger AWD $29,295
XLE 7-Passenger AWD $33,330
XLE LIMITED AWD $37,665
Prices do not include destination charge.