Work Car of the Year Runners-Up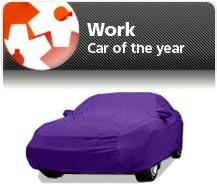 We only had two categories for the Work Car of the Year: Commuters and Hard Workers. One obviously seeks out the best daily drivers we could find, while the other is for people who need their cars during their 9 - 5 shift.
Best New Car for Commuters: 2007 Honda Civic Hybrid
Runners-Up: Acura TSX, Ford Escape Hybrid, Honda Accord, Honda Civic, Honda CR-V, Mazda3, Toyota Camry, Toyota Prius, Toyota RAV4
The Debate: Because the nature of a good commuter has as much to do with fuel economy as with a good ride, the Civic Hybrid came out on top without much argument in our war room. The Prius doesn't ride as smoothly, and the others don't come close on the mileage front. Still, all the cars in this group would serve as solid workday companions.
Best New Car for Hard Workers: 2007 Dodge Ram
Runners-Up: Chevrolet Avalanche, Chevrolet Suburban, Dodge Caravan, GMC Yukon XL, Honda Ridgeline, Nissan Frontier, Toyota Tacoma
The Debate: This was a hard one, seeing as we hadn't reviewed every 2006 and 2007 vehicle that falls into this segment. Most of these vehicles could serve as a business hauler for the local electrician, plumber or anyone else who needs to slap a magnetized sign on the side to make it look like an official company car.
Next, we'll finish things up with the Eco-Friendly Car of the Year.
Related:
Play Car of the Year Runners-Up
Family Car of the Year Runners-Up