2007 Saturn Outlook, GMC Acadia Recalled Due to Faulty Airbag Sensors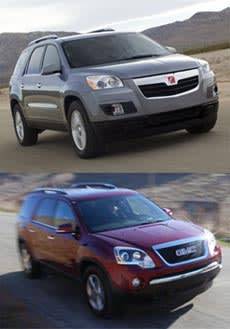 GM has recalled its all-new crossovers, the GMC Acadia and Saturn Outlook, because of potentially faulty airbag sensors. The recall affects all 13,032 of the vehicles on the road. The problem stems from a faulty sensor that controls the front airbags' deployment. It will also prevent the vehicle from alerting owners of a malfunction.
GM says the problem is a software issue and can be remedied with a service — no parts need to be replaced — at the dealer at no cost to owners. The company discovered the problem during internal testing and no incidents have been reported.
Letters went out Thursday to Outlook owners, and letters for Acadia owners will go out Feb. 28. Owners can call GMC at 1-866-966-9463 or Saturn at 1-800-972-8876 for more information.