Detroit Auto Show Diversions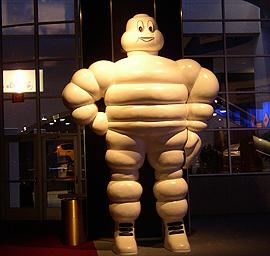 We've already told you which concept and production cars were the big winners and losers at the Detroit auto show, but that's not all there is to see and do when you get to Cobo Hall. Check out what else we saw on a quick tour of the place.
Michelin's Bibendum even made it to the show, though I found him in the Michigan Hall basement.
Mini had a driving simulator complete with a go-kart chassis at its stand for would-be Michael Schumachers to test their skills.
For media types in search of a less-involved racing experience, Volkswagen had a slot-car track in its corner of the show floor.
Tucked within the BMW display was one of the company's newest bikes, the K 1200 R Sport, which, at $14,875, costs more than a base Mazda3.
Scion's wall of cars was fairly impressive. Too bad you couldn't get near any of them for a closer look.
Finally, here's a spot for some peace and quiet … except, not really. It's a demonstration pod for the Dynaudio sound system available in Volkswagens.