Toyota Tundra Gets Top Frontal Crash Test Rating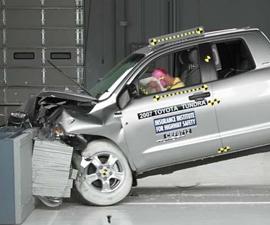 Last month, we were a bit stunned when the National Highway Traffic Safety Administration gave the all-new Toyota Tundra a four-star crash test rating, instead of the highest 5-star rating. The testing procedures by the NHTSA are almost always more forgiving than the Insurance Institute for Highway Safety, which uses more extreme crash tests in their evaluations.
Today, we learn that the IIHS rated the new Tundra good, the group's highest score, in frontal crash tests. Both a two-wheel drive and four-wheel drive Double Cab Tundra were tested.
Also receiving a good frontal crash test rating was the newly redesigned 2008 Mitsubishi Lancer.
Related
Tundra Four-Star Safety Rating Not a Good Thing (KickingTires)
2007 Toyota Tundra Expert Review (Cars.com)
Cars.comparison: Full-Size Trucks (Cars.com)
2008 Mitsubishi Lancer Expert Review (Cars.com)