2008 Subaru Impreza Interior Up Close
A little earlier, we dispensed full details on the redesigned Subaru Impreza 2.5i and its turbocharged WRX twin. Both cars were on display last night at a Subaru reception a few blocks from the auto show, and I had a chance to poke around inside.
The seats are a big step forward. I only wish there were a way to get the sporty seats in the WRX with the fabric from the 2.5i. The latter model has rich, well-cushioned upholstery that could satisfy me for the long haul. Not the case with the WRX; its high bolsters are sure to keep drivers fastened in tight corners, but the woven texture isn't the sort of stuff I'd escape to the parking garage to take a lunchtime snooze on. (Not that I've ever done that…)
The last Impreza's dash was purposeful but utterly simplistic. This one adds some interesting color contrasts and metallic inlays, but it's hardly crossed the divide to warm and inviting. There seems to be more open space between the windshield and the front seats than before – a good thing – but the cabin still feels austere. The doors are trimmed mostly in a single sheet of molded plastic, and the dashboard is hard to the touch. The ceiling is all mouse fur — and a feeble, balding rodent at that. It has a hollow echo when you knock on it, and I can't imagine it provides a great deal of insulation.

Design aspects aside, the interior seems to be well-executed. The dash panels fit together without any noticeable gaps, even in tricky areas like the steering-wheel hub. The wheel itself has a chunky feel, and the gearshift knob, though tall, falls readily to hand. The throws feel like they did in the previous generation — long but reasonably direct.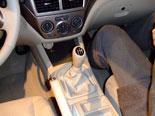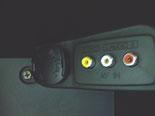 All told, the Impreza feels distinctly Japanese. Part of that is because of its outside look — stylish in a Mitsubishi or Suzuki way, not so much Chevy or Dodge — but the other part stems from the characteristically small controls. The steering-wheel crowds audio and cruise buttons precariously onto each spoke – six on the left, four on the right. The air conditioning dials get the job done in as little space as possible, and the buttons for the optional navigation system are similarly tiny.

Call it a hunch, but I don't think this car will broaden Subaru's appeal, as the company said it wanted to do at a press conference yesterday. Subaru fans will feel at home, but domestic shoppers, and maybe even a Honda or Toyota owner, might need some time to acquire the Impreza's particular taste.
-By Kelsey Mays