Volvo Adds Turbo to S80 Lineup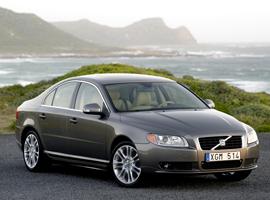 We were mightily impressed with Volvo's all-new S80 when we tested the V-8 powered AWD version a few months back. At the time, the only other engine offered was a 235-hp six-cylinder, with front-wheel drive. Now, Volvo is adding a turbocharged version of that six-cylinder, which produces an impressive 295 hp and 285 pounds-feet of torque paired to an AWD system. The V-8, for comparison, produces 311 hp and 325 pounds-feet of torque.
No pricing has been announced for the new model, called the S80 T6 AWD, but the current six-cylinder starts at $38,705 and the V-8 AWD starts at $47,350. It's easy to assume the new T6 will fall somewhere between those two figures. No on-sale date has been announced.
Related
2007 Volvo S80 Expert Review (Cars.com)
The New Volvo S80's Blind Spot Detector (KickingTires)