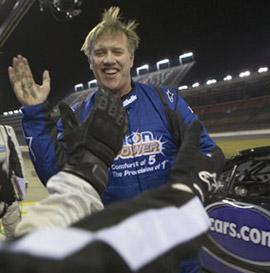 John Elway was famous for his late-game heroics throughout his long NFL career, including a playoff fourth-quarter comeback against the Cleveland Browns known as "The Drive." Well, that is officially Elway's retirement nickname now as well, as he came out of nowhere to win "Fast Cars & Superstars: The Gillette Young Guns Celebrity Race."
Here at KickingTires, we had suggested that any of four celebs could drive off with this event: pro wrestler John Cena, folk singer Jewel, her boyfriend and ex-rodeo star Ty Murray or extreme athlete Tony Hawk. All four gave healthy chases Sunday night, but each one came up short, as Elway bested them by a jaw-dropping 4-plus seconds.

Jewel bounced off the wall at Lowe's Motor Speedway in her practice lap before she tore up the racetrack, pitting like a pro and standing on the accelerator. Ex-Steelers coach Bill Cowher followed Jewel, but a bad pit stop stall killed his chances as he couldn't go fast enough to make up the time. Tony Hawk also had a slow pit time, but his speed around the track helped him edge Jewel by a quarter-second. Ty Murray, though, set a new standard, cruising through his pit stop and scorching the track, leaving Jewel and Hawk 11 seconds behind. Murray even took a celebratory donut spin through the infield. John Cena took his best shot at Murray, but even with a solid pit stop, he lost by a split second to Murray, although he too went for a donut spin in the infield.
With Elway last to run in the Cars.com car (Cars.com is a sponsor of the show), his earlier tepid performances offered little hint that this would be a go-for-broke ride. He started off quickly, hitting the high 150s on his first lap, and he drove away with the title after setting a record in the pit stop portion of the competition. Elway kept his cool, his line and his speed as he took the first "Fast Cars" title. No donuts for him, though, at the end. That's just not Elway's style.
Fast Cars & Superstars Coverage on Cars.com
Fast Cars & Superstars Celebrity Profiles
John Salley
Laird Hamilton
Gabrielle Reece
Kasey Kahne
Serena Williams
Kurt Busch
Bill Cowher
John Cena
Tony Hawk
John Elway