Fast Cars & Superstars: Time Trials Update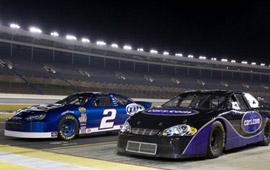 We're halfway through the first round of the time trial portion of "Fast Cars & Superstars: The Gillette Young Guns Celebrity Race," and the competition is getting fierce. In last week's first episode, Hall of Fame QB John Elway and professional surfer Laird Hamilton easily defeated tennis great Serena Williams. Williams, who seemed a little shell-shocked after her first ride-along, improved her time dramatically by the time she participated in the time trials, but it wasn't enough to move on to the second round. She did make her goal, however, of beating the speed of her explosive tennis serve.
On last night's episode, Krista Allen of ABC's "What About Brian?" faced ex-rodeo rider Ty Murray and extreme sports maestro Tony Hawk. Talk about competitive: All three were doing their best to get the top speed, with Murray even passing his pace car after his time trial ended. The outcome of these time trials was much closer than in the first episode, when Hamilton easily beat Elway, who had easily defeated Williams. Last night, only a tenth of a second (about four car lengths) separated Hawk from Murray. While Allen looked like she might pull off the upset, her car lost control for a short time on one of the curves. That slowdown cost her; she wound up a mere 2 seconds behind the guys.
Still to come in the time trials are singer Jewel, pro wrestler John Cena, ex-NBA star John Salley, pro volleyball player and model Gabrielle Reece, ex-Pittsburgh Steelers coach Bill Cowher, and Captain Kirk himself: William Shatner. "Fast Cars & Superstars," which Cars.com is sponsoring, returns tomorrow night at 8/7c.
Fast Cars & Superstars Coverage on Cars.com
Fast Cars & Superstars Celebrity Profiles
John Salley
Laird Hamilton
Gabrielle Reece
Kasey Kahne
Serena Williams
Kurt Busch
Bill Cowher
John Cena
Tony Hawk
John Elway