Fast Cars & Superstars: Accuracy Trials Part 2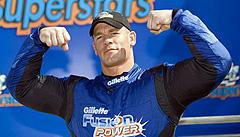 With his easy victory in last night's accuracy trials, pro wrestler John Cena has planted his stake as the celebrity most likely to drive off with the title from "Fast Cars & Superstars: The Gillette Young Guns Celebrity Race," which Cars.com is sponsoring.
To recap the rules for the accuracy test: Celebrity drivers need to hit arrows painted on the track with their left-side tires, 12 sets of them in all, and then they need to park their racecar cleanly in a box on pit row.
In last night's show, Cena benefited from the timidity and errors of his competitors: folk singer Jewel, ex-NFL coach Bill Cowher and pro volleyball player Gabrielle Reece. Reece and Cowher had had earlier entanglements with the infield and the wall, respectively, and that was reflected in their docile driving.
Jewel, who was hitting some impressive speeds as she drove around Lowe's Motor Speedway in Concord, N.C., wasted her time advantage by missing several of the arrows and blowing through the pit stop box. Her errors left her looking like she was headed for the exit, until Reece, clearly bothered by her practice lap spin-out, couldn't maintain either the speed she needed or the accuracy that could have saved her.
Cowher, who had learned to drive stick shift for this show, took his time around the track, keeping pretty accurate but never getting the racecar going very fast. His safe-but-sound approach earned him a spot in the finals alongside Jewel.
Cena, ignoring the slow-and-easy approach, went all out at Lowe's, driving very fast but still missing only one set of arrows and besting all three of his fellow celebs by roughly 20 seconds. In addition, he came close to Ty Murray's winning time from the first half of the accuracy test. As for the finals on Sunday night, it looks like it's going to be the wrestler vs. the cowboy to take it all.
Fast Cars & Superstars Coverage on Cars.com
Fast Cars & Superstars Celebrity Profiles
John Salley
Laird Hamilton
Gabrielle Reece
Kasey Kahne
Serena Williams
Kurt Busch
Bill Cowher
John Cena
Tony Hawk
John Elway