Fast Cars & Superstars: Kasey Kahne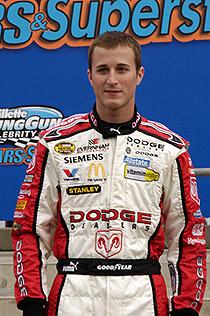 CONCORD, N.C. —
For Kasey Kahne, the road to NASCAR started on the driveway of his family's home in Washington state. It was not exactly a comfortable ride.
"The first thing I drove was my dad's truck, just a pickup truck," he said. "We had kind of a long driveway, so driving up and down that I could barely see over the steering wheel. I was holding myself up, three feet off the back of the seat, trying to reach the pedals. I think that was pretty fun, back then."
Things have changed for the Gillette Young Gun, one of six Nascar drivers helping teach celebrities how to race against each other at Lowe's Motor Speedway for "Fast Cars & Superstars — Gillette Young Guns Celebrity Race" reality show, which begins airing June 7 on ABC. Cars.com is a sponsor of the show. These days, his dad's pickup has been replaced by his own Dodge 1500 four-door pickup, a Dodge Durango and a Mercedes that he uses as "a nice car to go to dinner in."
Around town, though, "I usually drive the Durango the most."
We talked to Kahne before he'd had any seat time with the celebrities, but he wasn't worried about training the rookies.
"I think the celebs will be fine," Kahne said. "I think it'll be cool to work with them, see how they pick it up, see how long it takes them — and to see who winds up the fastest, most precise when they're on the racetrack."
Considering the history of some of the celebrities, like Super Bowl quarterback John Elway and professional surfer Laird Hamilton, would Kahne trade lives with any of them for a day?
"I think to switch positions with John Elway when he was throwing touchdowns left and right would be pretty awesome," he said. "That was pretty cool. I used to watch him do that all the time. So I think John Elway, or [rodeo rider] Ty Murray, maybe. Ty's a little tougher, maybe. Get on a bull, ride it for 8 seconds …"
Doesn't Kahne think two hours at 200 mph is harder than Murray's 8 seconds?
"No," he said. "And it's definitely not as dangerous."
Fast Cars & Superstars Coverage on Cars.com
Other Fast Cars & Superstars Profiles
Gabrielle Reece
Serena Williams
Kurt Busch
Bill Cowher
John Cena
Tony Hawk
John Elway