Weekend Athlete: 2008 Mercury Mariner Hybrid
Until now, I've only tested how my bike fits in new cars, but now that it's racing and camping season, it'€™s time to see how well they can carry the gear used on a typical weekend trip.
I'm no fan of SUVs, but the 2008 Mercury Mariner Hybrid proved to be better than I expected. The rear seats folded down easily once I figured out you had to flip the rear seat bottoms forward. The load floor was just the right height for me (I'€™m 6-foot-1), and while that's subjective, I don't think shorter people would find it to be too tall.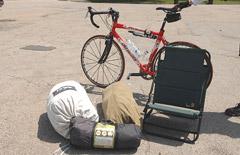 Without folding the rear seat, I had plenty of space for a nice weekend of car camping, which is more stuff than I'd carry backpacking because I don't have to carry the gear on my back for a few miles. The space becomes an issue when you carry a bike; you have to remove the bike's wheels or fold the car seats to fit it in; luckily, neither is a big deal. Slipping a wheel-less bike into the back is easier in some cars than it is in others. The Mariner Hybrid was one of the easier ones.
Weekend Athlete Rating: 8 out of 10
The Honda Element is still the champ for carrying my toys, but I was more impressed by the Mariner than I expected to be. My gear loaded easily, and driving it was a nice experience; the blind spots were minimal and its overall size was manageable.

Gear:
Tent — two-person
Sleeping Bag — one-person, not compressed
Full duffel bag — sundries
Chair
Bike — Specialized S-Works, 58-cm frame
*Weekend Athlete is a new real-life car review series where our intrepid outdoor athlete Bill Jackson will push many of the cars we review to their gear-carrying limits. If you have suggestions for more test items, please comment below.