Weekend Athlete: 2008 Scion xB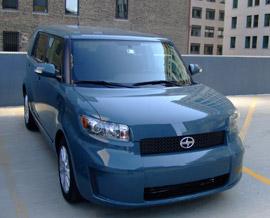 An Ironman triathlete I know has the previous-generation xB, so I was excited to see how the redesigned 2008 xB did with my non-Ironman triathlon gear and camping stuff. Verdict: It's pretty darn good.
The xB ties the 2008 Mercury Mariner Hybrid from last week's test. Its seats are easier to fold, and the cargo area is close to the same size despite the fact that the car itself is tiny.
While the xB carries the camping and racing stuff OK, it did remind me of my old studio apartment: Everything had its place, but you couldn't bring anything new into the mix without it feeling cluttered. There's just not a lot of extra space in the cargo area or driver/passenger compartment once you're loaded up. It'd be a fine two-person camping car, and maybe a third could tag along, but four would be too much.
The xB was peppy and it carried what I asked it to, but it's still not my favorite. That's mainly due to a few subjective things like visibility, the steering-wheel position and the quality of the buttons and other controls, all of which might not bother you, the reader. If you're looking for something to carry you and your toys, and you don't want a larger or more expensive vehicle, the xB really should be on your shopping list.
Weekend Athlete Rating: 8 of 10
Related
Weekend Athlete: 2008 Mercury Mariner Hybrid (KickingTires)
First Drive: 2008 Scion xB (KickingTires)