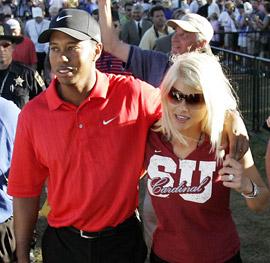 No, Buick didn't get LeBron James, Peyton Manning or Lance Armstrong. Those sports celebrities aren't as desirable as Tiger Woods, according to advertising pundits. No one is. So it comes as a major surprise that GM is moving its greatest pitchman from Buick to a utility role shilling GM corporate products like OnStar.

This has to be one of the oddest moves in recent advertising history. As Buick's lineup finally gets cooler, with the new Enclave crossover, the brand says it wants the products to shine on their own. It seems to us that the lovable Woods would make people pay attention to the commercial in the first place. Plus, as golf fans themselves get younger and more appealing to advertisers, Buick could also reduce its aging demographic.

The sports fan in us wonders if this will make it easier for Tiger to skip the Buick Open next week, which has been rumored since the birth of his first child last week. Whatever happens, this is GM's move and not something Woods himself requested. We'll wait until whoever made the decision gets a pink slip. We all remember the last time GM made a bold corporate move, putting small silver GM emblems on every model across the board. Not many people noticed. Now we're guessing not many people will notice Buick ads.

GM: Tiger Woods Will Market OnStar, More (USA Today)