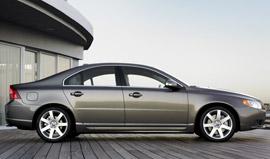 A lot of folks got behind the wheel of a new Volvo S80 with the base engine. The varying opinions are an interesting read. We also get some seat impressions on Ford's Fusion sedan, one of the company's most important offerings. Our resident answerman, Joe Bruzek, also offers his take on the grandpa-like Kia Amanti.
2007 Volvo S80 3.2
I thought the S80 we tested in March, a well-equipped model powered by a V-8, was nice — not a knockout, but nice. This week's model, modestly equipped and powered by a 3.2-liter inline-six, leaves me a bit flat. My main problem with it is the acceleration, which isn't lacking so much as lagging. Nowadays people are quick to call practically any vehicle underpowered. I don't buy it. This one's 235 hp and six-speed automatic are a decent match, I just experienced too much hesitation when I hit the pedal, especially from a standstill or low speed. In my opinion, the danger of modest power in traffic is overstated, as is the danger of inconsistent, unpredictable hesitation.
Apart from that and the characteristically numb Volvo steering, the car is fine and has an enormous trunk with rear seats that fold down – rare in full-size sedans. I like the interior's comfortable seats and understated design, and I was especially captivated by the seated-person figure on the control panel that selects where you want the air conditioning to blow. Volvo has used this for years, but this one appears to be chrome in daylight yet glows after dark. It's the little things....
Joe Wiesenfelder, senior editor
The S80's sluggish accelerator didn't bug me as much, though I certainly noticed it — at least when driving home from the office one night. When I brought the S80 back the next morning, the pedal had much less perceptible lag. Weird. What annoyed me was the automatic transmission, whose modus operandi dictated that it find the highest gear as soon as possible. That meant plenty of awkward, power-robbing upshifts as I goosed the pedal through the corners. The transmission offers no Sport mode, which might have addressed this by holding gears longer.
On straightaways, the six-cylinder moves things along nicely; it rarely left me wanting an extra two cylinders. Then again, I was never taken by the S80's optional V-8, which really doesn't come on strong until you bury the accelerator at Wounded Knee. Those without lead feet should save their money and go for the base car — or try out the new turbocharged T6 trim, which we'll have the opportunity to do in a few weeks.
Kelsey Mays, Cars.com reviewer
Even when you're only creeping along in rush-hour traffic, as I was in the Volvo S80, you can still learn things about how a car drives. In the Volvo's case, it's not the smoothest between zero and 5 mph, as the gas pedal doesn't always produce the same response when depressed. This makes for jerky forward progress at times. In less congested stop-and-go driving, however, the six-cylinder moves this big sedan capably, making the available V-8 superfluous.
The S80's beige interior, while great for photographing, is destined to show dirt and wear. The steering wheel on our low-mileage test car was already showing grime on its rim. Shoppers with small kids will want to check out the black interior, or else get the rear seats covered in plastic.
Mike Hanley, Cars.com car reviewer
The Volvo S80 is the kind of car I'd recommend to my parents; it's pleasant (not thrilling) to drive, comfortable, inoffensive and slightly boring. There wasn't anything I particularly disliked about the car, but there wasn't anything I'd exactly rave about, either. I definitely got the feeling Volvo's target demographic for this car isn't so much urban, 20-something female as it is suburban, golf-playing mom or dad.
The interior was spacious and the seats were as nice as any you'd find in a luxury car, and I greatly appreciated the noticeably quiet cabin while stuck in heavy traffic. I also liked the compact, deliberate design of the center controls — none of the buttons or dials seemed out of place or added as an afterthought. The new S80 is obviously sleeker than Volvos of yore, but ultimately not a car made with me in mind.
Amanda Wegrzyn, Advice editor
2007 Ford Fusion SEL AWD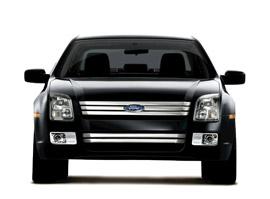 Ford got a lot of things right with the Fusion midsize sedan. Its suspension offers a nice balance between comfort and sportiness, and it's poised at highway speeds. The V-6 makes adequate power, and the front bucket leather seats our test car had fit just right. It's also quite stylish.
With so much going for it, it's unfortunate the Fusion's subpar interior torpedoes its chances of being considered in the same light as the Honda Accord and Nissan Altima — class leaders in this segment. This isn't a problem with only the Fusion, but with Ford vehicles in general — including the new Edge crossover — and it's something the company is going to have to figure out if it hopes to mount a comeback in North America.
By Mike Hanley, Cars.com car reviewer
I'm in total agreement with Mike on the Fusion's hits and misses. I still think there might be more value in a Fusion than others in the class, and I dig the looks. Our tester also came with a fair amount of body molding and a small spoiler on the trunklid, provided by an optional appearance package. Of course, one day while running errands I made the mistake of trying to lift the trunk by grabbing said spoiler, and I almost ripped it right off. You see, it's simply glued to the trunk with adhesive.
That wasn't a good feeling, and I can imagine if you actually had to write a check every month to pay for the car you'd really be burning.
David Thomas, KickingTires editor
2007 Kia Amanti
While there is very little, if any, fun-factor in driving the Kia Amanti (as you might expect), the cushy factor is hard to ignore in this sedan. I have yet to officially define "cushy factor," but this car is as good a place as any to start. Driving the Amanti brought back memories of piloting my grandparents' 1994 Crown Victoria: Bland exterior, light steering and brakes, tiny blind spots and comfy — like riding on air — communication with the road.
While driving the Amanti on the highway, I approached a block of non-moving traffic, and it didn't seem like it was the worst thing that could happen — unlike when we take out a sports car or something fun. My backside was comfortable and the interior was very quiet. Also, the Infinity stereo in our tester had a surprisingly powerful, clear and crisp sound that got plenty of use while stopped on I-290.
Joe Bruzek, Ask.cars.com


Cars.com Expert Reviews
2007 Volvo S80
2007 Kia Amanti