Subaru Streamlines Outback, Legacy for 2008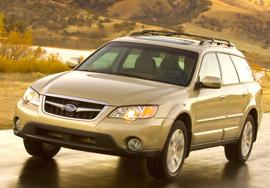 There's no more confusion for Subaru wagon or sedan shoppers. For 2008, Subaru has trimmed its lineup so the Outback is sold only as a wagon and the Legacy only as a sedan. The move should clear up potential confusion for anyone unfamiliar with Subaru's lineup, which has included sedan and wagon variants of both cars since 2000.
Consider the complications: When fellow staffer David Thomas blogged his experience cross-shopping the Outback with its competitors, one reader asked why he didn't consider a Legacy wagon. Had this been last year, he just might have – the Outback wagon shares the Legacy's gene pool, and you'll have a hard time picking an Outback sedan from a Legacy four-door. The similarly named Outback Sport, meanwhile, is something entirely different. Confused yet?
Things should clear up from here on out. Subaru says the move to streamline both models made sense from a differentiation standpoint, and we couldn't agree more. Now to do something about the Outback Sport; Subaru says a new one will arrive soon, sharing a platform with the redesigned 2008 Impreza. We don't know why it's called an Outback, either.

Source: Subaru