Ch-Ch-Changes: 2008 Touareg 2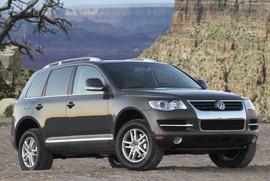 Here at the Cars.com offices we're busy sifting through pages of information from automakers as the full 2008 lineups are slowly being unveiled. One model that gets some slight changes for 2008 is Volkswagen's Touareg SUV, which is now called the Touareg 2. VW is playing up the fact that there are 2,200 new parts on the Touareg 2, including exterior changes, but to the average Joe there's not much that looks different.
The engines are more advanced and now use direct injection. The base VR6 gets a 280-hp V-6, and there's also a 350-hp V-8 and a twin-turbo diesel V-10 with 310 hp and 553 pounds-feet of torque. There's also an entirely new option package assortment and naming convention to confuse buyers: They're called the Lux, Lux Plus and Technologie packages.
The Touareg is on sale now, starting at $39,320 not including a $680 destination charge. That's roughly a $1,000 price bump over the VR6. The V-8 version sees a nearly $5,000 increase, and the V-10 gets a nearly $10,000 increase. A power liftgate and Sirius Satellite Radio are now standard, but most might have trouble wrapping their heads around the price hike.
For full prices and more information, you can research the Touareg 2 here.
Related
2007 New York Auto Show: 2008 Volkswagen Touareg 2 (Cars.com)
Unnecessary Sequel: The 2008 Touareg 2 (KickingTires)