2008 Jetta and Rabbit: More Power, New Trims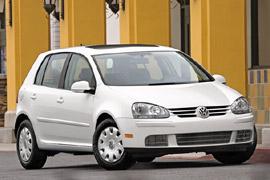 We always like it when the base trim level for a car gets an upgrade — it's often the model more people buy. Such is the case for Volkswagen, whose 2.5-liter five-cylinder has been retooled for 2008. Output jumps from 150 to 170 hp in the Rabbit and Jetta, while the New Beetle keeps the old 150-hp version.
The extra power should give the Jetta some much-needed oomph, as the current base model is a bit underwhelming. The lighter Rabbit, in contrast, is already something of an unlikely athlete. But hey, we won't argue with extra power — especially when it comes with better gas mileage. With the EPA's revised ratings system, Volkswagen reports that both the 2008 Jetta and Rabbit get 21 mpg in the city and 29 mpg on the highway with an automatic, versus 19/28 for automatic-equipped 2007 models (using 2008 EPA calculations). The EPA reports slightly different mileage figures for the Jetta, as well as that it now uses premium fuel. Volkswagen says it can run on regular gasoline.
There's one more amusing detail: Both cars shed their old trim levels for new ones — the Rabbit is now the Rabbit S, and the Jetta dons S, SE and SEL badging. In the alphabet soup of trim levels, even this phenomenon is rare — the Blue Oval uses nearly identical delineations for the Fusion, Focus and Edge. A Fordian slip, so to speak? Weigh in below.
2007 VW Rabbit Shown