Filling Out a J.D. Power Survey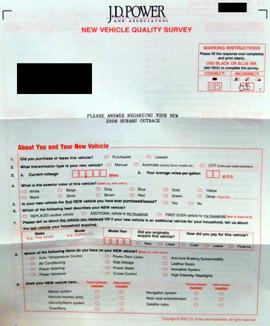 An interesting envelope arrived in the Thomas family mailbox yesterday; it said J.D. Power on it. At first I thought it was a press release errantly sent to my home instead of my office, but it was addressed to my wife. Inside was a survey that helps the company determine those initial quality ratings we all hear about.
A lot of people dismiss the survey because they think, "How much can really go wrong in 90 days of ownership?" Turns out, the company recently said it now measures other factors, like design, instead of just problems. After four pages of Q&A, though, I'm not so sure.
The first page of the SAT-like form asks some simple questions, including whether or not this was our first car, if we bought or leased, what our former car was, what we have equipped in the car — like A/C and power windows. Turn the page, and we get the "Things Gone Wrong" section. It details a litany of potential problem areas, including seating, A/C, controls, engine, exterior, interior, entertainment systems and driving experience.
All of the questions are strictly asking for problems. When asking about something like a control, it lists "in poor location" and "difficult to use" as options. I'm guessing (it doesn't say on the survey) by leaving it blank you indicate nothing went wrong. This is the new measure the company said it was taking in using design to help determine quality? I'm surprised to hear myself say that, but I guess they have a point. Still, I worry about what the common man considers "difficult to use."
The only problem I listed was that there is a panel gap between the glove box and the dash, so it doesn't look like the glove box is shut all the time. This will equal one "Things Gone Wrong," I assume. So far, the Outback has been stellar. I wouldn't be surprised if a lot of owners look at this survey and just fill out the front and back pages, leaving all those complicated problem questions in the center blank.
Luckily, there is an area on the back page that asks you, the owner, what you consider the overall quality of the vehicle on a scale of 1 to 10, with 1 being unacceptable and 10 being truly exceptional. After feeling so bad about adding to a Thing Gone Wrong, I gave the Outback a 10. Although I probably would've given it a 10 regardless, as the glove box doesn't really bother me that much. I'm probably just obsessed with it because I'm in the passenger seat all the time since it's my wife's car.
Related
When an Auto Writer Buys a Car: Part I
When an Auto Writer Buys a Car: Part II
When an Auto Writer Buys a Car: Part III
When an Auto Writer Buys a Car: Part IV