VW Goes Diesel Happy: Jetta TDI Coming in '08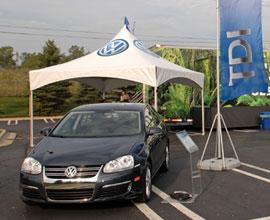 One of the surprising things about this job is hearing about cars people love with a passion you wouldn't necessarily anticipate. Possibly the top car on that list is the Jetta TDI -- or any diesel VW, for that matter. Readers have commented that they go to extreme lengths to keep these machines running, even after they would have otherwise traded it in, simply because there is no new replacement.
Come the spring of 2008, there will be. Volkswagen is bringing its new clean-diesel 2009 Jetta TDI to the U.S., and we're anxious to hear what KickingTires readers think about it.
The news comes in conjunction with VW's new promotion called The Dieselution Tour, aimed at informing American consumers about clean diesel … and, presumably, to put their butts in VWs. Currently, the only VW diesel on sale in the U.S. is the Touareg 2 V-10 TDI, at a cost of $68,320. Think no one would buy it? We saw one in our parking garage this morning. As for the Jetta, we haven't gotten full specs on the 2009 TDI yet, but we'll keep you posted.