First Drive: 2008 Pontiac Torrent GXP, 2008 Buick LaCrosse Super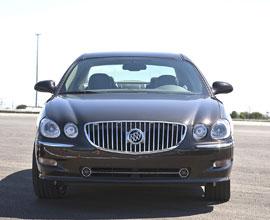 Many car companies take aging models and snazz them up to make them relevant again. So GM isn't alone when it comes to tarting up two underachievers like the Pontiac Torrent SUV and Buick LaCrosse. Joe Bruzek and I got to take them on the track and city streets and came away somewhat unimpressed.
2008 Buick LaCrosse Super
Driving the LaCrosse Super reminded me of the first time I took out the last Impala SS. It drove just like the original, but with a huge, honking V-8 powering the front wheels. The Impala, however, was an underappreciated car with lots of value to it. The LaCrosse is still your grandfather's Buick, he'll just have a harder time driving it.
The LaCrosse Super's ride is comfortable and dead quiet, but there's a lot of body lean when cornering. Plus, I felt like there wasn't a lot of headroom for such a large sedan. The blue gauges mixed with a dark brown interior was also not the most eye-pleasing combo. Don't believe me? Check out the photo gallery below. — David Thomas
The Super's stereo and climate system were ridiculously basic and boring for a top trim car. I would expect that kind of pure function-over-form in a base model, but not the Super. It would be nice to see some of the interior refinements and quality materials from the Enclave work their way into this car.
As Dave mentioned, the torque-steer is pretty nasty, as the whole car pulled right and left down the road during acceleration bursts. GM representatives on hand said the tire selection was crucial to cutting down torque steer, but there's still plenty to go around in this front-wheel-drive V-8 that makes around 300 hp. — Joe Bruzek

2008 Pontiac Torrent GXP
It was nice to feel the power of GM's 3.6-liter V-6 in a lighter SUV than the new Saturn Vue. In the Pontiac, the engine roared to life and moved the compact SUV with the added force you'd expect in a high-performance trim level. On the downside, it's still a Pontiac Torrent. The Vue has raised the bar for the rest of the brand's small SUVs, and the Torrent's dated interior, center-mounted window controls, stiff seats and rickety body are so 2002. Still, I wish the Vue would shave some pounds so it felt this good off the line. — DT
There's definitely some extra get-up-and-go with the GXP package and about 80 extra horsepower over the base Torrent. The GXP adds muscle looks along with the extra power, and I don't think it looks half bad with its louvered hood, dual exhaust and rim package. After driving the new Vue Red Line only a few days before, I can agree with Dave in saying the Torrent feels outdated and stuck in the past; for example, underneath the center armrest is a vertically slotted holder for CD cases … that's so 2002. — JB