Buick Enclave Flying Off Lots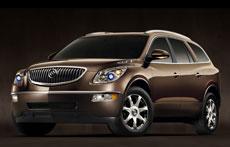 The Wall Street Journal compiles a "Hot Off The Lot" list every month that marks how long a car stays on a dealer lot. In September, the new Buick Enclave crossover tied the seemingly undying Toyota Prius atop the list. It was followed by luxury SUVs like the BMW X5, Lexus RX and Mercedes-Benz GL.
Other interesting tidbits drawn from the numbers include the most popular color: white; the most-traded-in model: the Buick Rendezvous; and that the majority of Buick buyers were young — at least for that brand: 36 to 55 years old.
Hot Off The Lot (Wall Street Journal via GM InsideNews)