GM to Build Hummer H3T Truck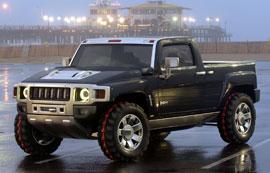 In an unusual move, GM confirmed today that it would build an all-new model for Hummer based on the H3T truck concept shown here. It will be based on the popular H3 SUV and feature a pickup bed. Unlike some SUVs with truck beds, the H3T will be a full-fledged pickup, bigger than a midsize (Chevy Colorado) but smaller than a full-size (Chevy Silverado) and will go on sale in the third quarter of 2008, meaning sometime next fall.
We say the announcement is unusual because most car companies won't announce a new model without a public unveiling of some kind, like at a major auto show. We expect to see a production version of the H3T at one such show this season, most likely Chicago in February. More H3T concept photos below.