Toyota Adds 13 New Trims for 2008 Tundra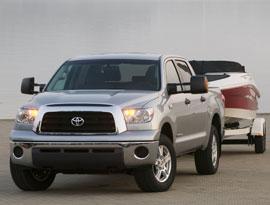 Covering trucks is a headache because there are so many cab and bed configurations on top of the standard trims, like Touring or Sport, that you see on cars and SUVs. That makes the 13 additional trims for the 2008 Tundra a bit dizzying. The reason Toyota is adding so many new offerings is to make the Tundra available at a lower price, thereby expanding its market share.
To that end, there's a new "Tundra Grade" in double cab and CrewMax versions of the truck. These Tundra Grade trucks slot below the SR5 models. You can get a regular cab Tundra Grade 4x2 with the standard V-6 engine and five-speed automatic for $22,290, which is the same price as the 2007 model. The Double Cab Tundra Grade will start at $24,715 with the same equipment, and the CrewMax will start at $27,685 in Tundra Grade with a V-8 engine and five-speed automatic.
The 2008 Tundras will arrive at dealerships later this month. We'll have full pricing on all the trim levels on Cars.com shortly.