New Minivans Included in Chrysler Sale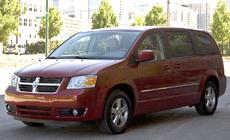 The Chrysler Event of a Lifetime might be hyperbolically named. After all, anyone who considers a year-end car manufacturer sale the event of their lifetime probably needs to do some serious self-examination. Therapy might even be in order.
While they're getting those issues sorted out, though, the rest of us can take advantage of the deals Chrysler's event entails. The automaker is offering a variety of savings on 2008 models, including $3,000 on a 300C (excluding the SRT8), $2,000 on Sebring convertibles, $1,000 on a Town & Country, and $1,500 and $2,000 on five- and six-passenger Pacificas, respectively.
Dodge and Jeep are in on the act, too. Dodge trucks get the highest discounts — $3,000 on the 2008 Durango and $4,500 on certain Ram trims — while the 2008 Jeep Commander and Grand Cherokee get $3,000 each.
A variety of long-term financing deals are also available.
Time is of the essence: current deals expire Monday, Dec. 3, and Chrysler has yet to announce any incentives past the current expiration date. Though surely Chrysler would want to extend the Event of All Our Lifetimes, right?
Check out Cars.com's Incentives page for a full list of deals.