Georgia Emissions Tests, Toyota Prius Don't Mix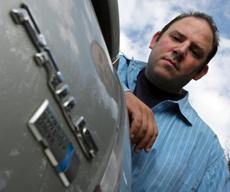 A poor 2004 Toyota Prius owner in Atlanta had a heck of a time getting his low-emission car to pass Georgia's own emissions test. The computer running the test needs the car's engine to run at idle to calculate a passing or failing grade for pollutants. Well, the Prius, being a hybrid, simply shuts the engine off, so there is no idle — that's one of the reasons mileage numbers are so high for the Prius.
But Toyota's ingenuity did nothing to alleviate the man's pain at the station. The Prius failed the test three times, and it took days to get the issue resolved. Comment below on the irony of a state test to help improve air quality not being able to handle one of the cleanest machines on the road.
Earth-Friendly Prius Struggling to Overcome GA Emissions Glitch (Atlanta Journal Constitution via Consumerist)