Lancer Gets More Power; Outlander Gets Less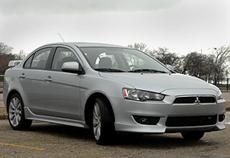 Mitsubishi made a small announcement today: Both the regular Lancer sedan and the Outlander SUV will get Mitsubishi's latest 2.4-liter engine. Mitsubishi calls the engine its next-generation four-cylinder; power is up to 168 hp, nominally more than last year's 2.4-liter.
In the Lancer, the engine will go in the GTS trim, while other versions retain a smaller, 152-hp engine. A manual or CVT automatic is available. The Outlander gets the 2.4-liter engine with a CVT in ES and SE trims, while LS and GTS trims have a V-6.
The extra power should help the Lancer, which is engaging to drive but could use a little more oomph. The Outlander, meanwhile, gets 3 mpg better in the city (20/25 mpg city/highway with either FWD or AWD) with the four-cylinder versus the V-6, but highway mileage stays about the same.
The figures stack up about even with the four-cylinder Saturn Vue (19/26 with FWD) but fall slightly short of the Honda CR-V (20/27 and 20/26 with FWD and AWD, respectively) and four-cylinder Toyota RAV4 (21/27 or 20/25).
A Mitsubishi product manager told us the four-cylinder Outlander is a 2008 model and will go on sale early next year, while the upgraded Lancer GTS is a 2009 model and will go on sale in the spring.
Related
More on the LA Auto Show
More Mitsubishi News