2008 Geneva Motor Show: Mercedes Vision GLK Bluetec Hybrid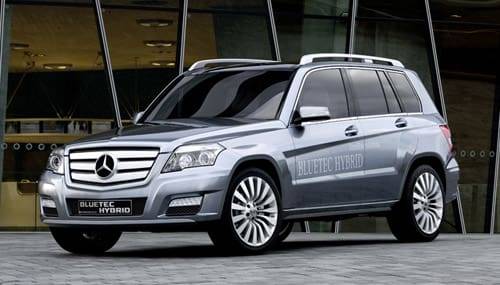 Looks like: The GLK concept that debuted at January's Detroit auto show
Defining characteristics: Diesel four-cylinder combined with electric motor for 40 mpg
Ridiculous features: Not many, as the GLK is near production-ready
Chance of being mass-produced: The GLK is confirmed, but we'll have to wait and see about a diesel hybrid
The GLK, Mercedes' all-new compact crossover, got its formal European debut at this week's Geneva auto show. Though it's technically a concept, it's very close to the real SUV that will hit U.S. dealerships this fall. What won't come is the European concept's diesel-hybrid version, which delivers some 40 mpg in combined city and highway driving, Mercedes says.
The drivetrain sounds similar to the workings in Mercedes' 40-mpg S400 Bluetec Hybrid concept at last November's L.A. auto show. At its heart is an electric motor wedged between the engine and transmission that generates some 118 pounds-feet of torque. Though it provides a healthy boost in acceleration, it can't power the GLK on electric power alone. Its energy source is a lithium-ion battery, which is more technologically advanced than the bulkier nickel-metal hydride batteries used in hybrids today. As you might expect, the running gear also includes regenerative brakes and an engine that shuts off at idle.
Mercedes says the GLK Bluetec Hybrid's 2.2-liter diesel four-cylinder is clean enough for the U.S. government's Tier 2, Bin 5 standards, and coupled with the electric motor it emits the least carbon dioxide of any SUV in this class. All told, the system generates 224 hp and a staggering 413 pounds-feet of torque — enough to propel the hybrid from zero to 60 mph in about 7 seconds.
When the GLK arrives this fall, it will likely come with a gasoline V-6 from Mercedes' C-Class sedan. But given the advances already in store for the S-Class – there's a lithium-ion hybrid due in fall 2009, albeit without the diesel engine — we wouldn't be too surprised to see this technology make its way into the GLK in the not-too-distant future.