Up Close: 2009 Hummer H3T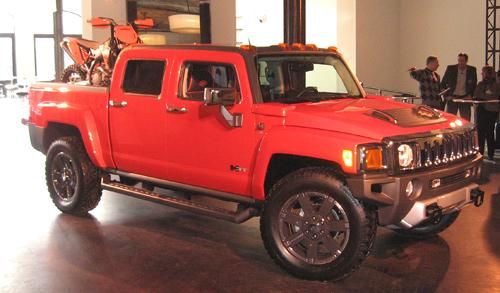 Hummer invited journalists today to check out the H3T before it's officially introduced at the Chicago Auto Show. If assertive styling and offroad capability trump some of the more utilitarian aspects of owning a pickup for you, you might want to check it out.
The truck looks more impressive in person than it did in press photos. The doors cover the entire side of the crew cab — there's no framing around them — and the roof has raised rails that run all the way between the cab and the bed. Most pickups leave an unsightly gap between the two. The H3T's extended length nominally compromises its approach and departure angles — meaning your bumpers might take a few more hits negotiating that backwoods gulley — but Hummer assures us it will handle the same grueling trails as its H3 bedfellow.

We only wish the cabin utility were as impressive. The rear seatbacks fold down, but the cushions don't lift up, which would leave more cargo space on the floor; the cushions in many competing pickups do just that. Worse yet, the rear seats in the H3T carry massive headrests, so unless you drive with the front seat quite far forward, they need to be removed for the seatback to fold down. As luck would have it, those headrests don't come off easily, and you have to fold the seatback partway before there's enough ceiling clearance to pry them out.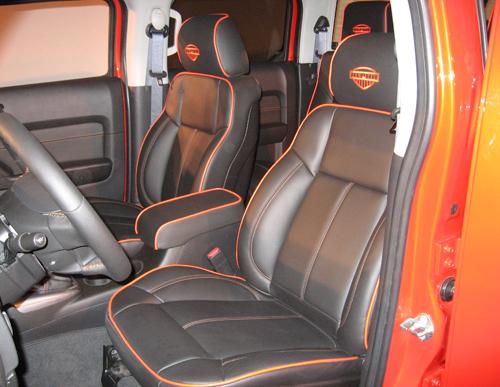 The dashboard and interior materials are identical to the H3's, with a thick steering wheel and large A/C knobs. The well-padded leather in the loaded display model felt straight out of our favorite living-room recliners.
If the pickup drives anything like the SUV, you'll want to upgrade to the V-8 — the five-cylinder is barely adequate at best. That should prove more affordable, as Hummer will make the V-8 Alpha available with cloth as well as leather trim. The only H3 Alpha SUV available comes loaded to the gills.
We've signed on for a brief drive in several GM vehicles next week, and the H3T looks to be one of them, so stay tuned for more impressions.
Related
2008 Chicago Auto Show: 2009 Hummer H3T (KickingTires)