New VW Minivan On the Way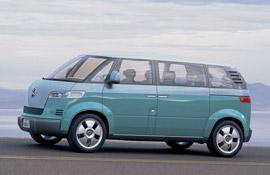 The Detroit News is reporting that Volkswagen will debut an all-new minivan at the Chicago Auto Show next month. We know, we're not even done writing about the Detroit auto show and here's something about Chicago. Sorry — news happens.
The VW van will be called Routan, a reference to the word "route." The big surprise is that it will be based on the Dodge Caravan and Chrysler Town & Country minivans. The Routan will be built in Canada.
We'd like to think the van will look like the classic Microbuses of old or the cool concept shown here, but that's doubtful. Still, a VW interior in a minivan might be quite welcome.

VW Routan: Missing the Minivan Crest? (Detroit News)