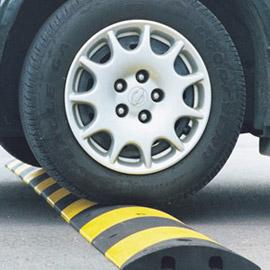 Our friends from across the pond have some bad news: Speed bumps are pretty lousy for the environment.
Britain's Automobile Association recently tested a vehicle that gets 58 miles to the gallon, running it over speed bumps and at a strict 20 miles-per-hour speed limit the rest of the time. The experiment found that the car's gas mileage fell from 58 mpg (when traveling 30 mph or more) to an astonishing 31 mpg—a drop of nearly 50% when adjusting speed for the speed bumps.
Furthermore, the Automobile Association found that lowering the speed limit to 20 mph on a given road raised both emissions and fuel consumption by 10%. All of this confirmed findings from the UK's Transport Research Laboratory, which stated that carbon monoxide and nitrous oxide emissions increased by 82% and 37% respectively on roads with speed bumps.
Still, few other options for slowing traffic exist. Speed bumps serve a practical purpose, and it's difficult to see what might replace them. I guess what we're saying is: The race for green speed bump is on.
Speed Bumps are Bad for the Planet (Autoblog)