Toyota Plans Diesel V-8 for Tundra, Sequoia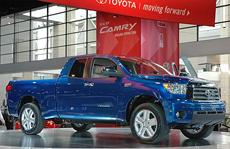 At a reception for journalists in Detroit yesterday, Toyota president Katsuaki Watanabe confirmed that the automaker would add a diesel V-8 engine for the Tundra pickup and Sequoia SUV down the road. Watanabe didn't elaborate on any specifics — neither would communications head Irv Miller — but the presentation backdrop, which showed the current Tundra and new-for-2008 Sequoia, suggests the engines will be available sooner rather than later, meaning before they get redesigned.
Though traditionally reserved for heavier-duty trucks like the Ford F-250 and Dodge Ram 3500, diesel engines have been all but promised for the F-150, Chevy Silverado 1500 and Ram 1500 within the next few years. What's more, Automotive News reported last June that Nissan may build a diesel Titan by next year. Thanks to the low-sulfur diesel available in the U.S. for more than a year now, the technology is clean enough to be certifiable in all 50 states. Diesel engines generate prodigious low-end torque, making them a natural fit for pickups, and the combustion properties of the fuel mean the engines get some 30 percent better mileage than comparable gas engines, according to some reports. The Sequoia and Tundra both use Toyota's 5.7-liter V-8. Do the math and a diesel could mean serious low-end grunt with highway mileage in the low 20s.
Along with the diesel announcement, Watanabe detailed a four-part plan Toyota calls "sustainable mobility." Among the highlights were plans to introduce two new production hybrids, one Toyota and one Lexus, at the Detroit auto show next year. Both will be "dedicated hybrids," which means they won't simply be hybrid versions of an existing car. Toyota is also pushing to extract E85 from wood waste rather than from corn — not unlike GM's plans announced yesterday — as well as develop high-tech lithium ion batteries for use in test fleets by 2010.