Hyundai Genesis Goes Naked on the Grille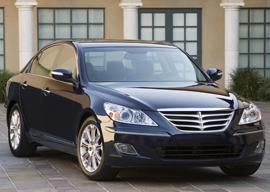 The wait is over: The new Hyundai Genesis will debut in the U.S. without the Flying H company logo on the grille.
You may remember that back at the Detroit auto show Hyundai asked journalists and consumers visiting the show to offer up their two cents on which grille they should use. Our choice? We argued that Hyundai has no reason to be ashamed of its logo, not with all the vast improvements it's made to its cars over the past decade, but that the logo-free grille was an instant classic that would serve the Genesis well.
Then Hyundai muddied the waters even more by running Super Bowl ads with a third version, from the Korean model.
Well, Hyundai seems to have embraced our point of view, though it tells us it was a point of view shared with a good many people. The automaker announced this afternoon here at the Chicago Auto Show that the logo-less grille will adorn the Genesis, a model we think has a lot of potential for Hyundai.