Recall Alert: 2009 Nissan Murano, 2008 Infiniti EX35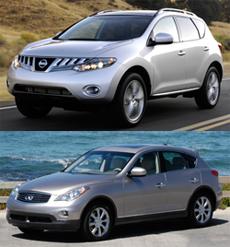 Two major new products from Nissan are being recalled due to a software glitch that could cause passenger airbags to fail during a crash.
The recall affects 11,511 2009 Nissan Muranos, which went on sale just this month, and 4,854 2008 Infiniti EX35s, which went on sale in late 2007. Nissan will reprogram the software to fix the problem; it should be an easy fix to a potentially dangerous problem.
First-year models often have growing pains with problems like this, but sometimes news of a recall can sway potential buyers of a new model.
Owners can contact Infiniti at 1-800-662-6200 and Nissan at 1-800-647-7261 for more information.
Nissan Recalls Murano, Infiniti SUVs for Airbag (Bloomberg)