Toyota Announces Third-Generation Prius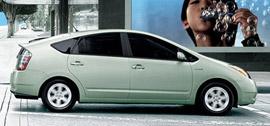 The Prius has been a smash success for Toyota. It is by far the least-expensive, highest-performing hybrid car on the market, and it has helped establish Toyota as a hybrid innovator while most of the rest of the field struggles to catch up. Today, Toyota announced the next step in the Prius' evolution: a third-generation Prius set to debut at the 2009 Detroit auto show.
According to Wired's Autopia, the third-gen Prius should draw style cues from Toyota's HybridX concept. Toyota is experimenting with a couple of new developments for the Prius, including a lithium-ion battery system and an improved Hybrid Synergy Drive potentially capable of 70 — yes, 70 — mpg or better.
Even more news for the hybrid crowd: Toyota's president also announced the development of a hybrid-only Lexus model. There's no telling what that will end up looking like, but for those turned off by the Prius' look-at-me-I'm-saving-the-Earth style, it may mean even more help is on the way.
Coming Soon: Third-Gen Prius, Hybrid-Only Lexus (Autopia)