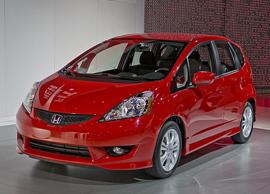 As the last major show of the season wraps up in New York City this weekend, it's time to choose the best of the best. After trips to Los Angeles, Detroit, Chicago and New York, the Cars.com staff reflects on which vehicles we think will make the biggest impact this year and beyond. We'll start the review with each of our picks for the Best Fuel-Efficient Car from the four shows.
Best Fuel-Efficient Car

David Thomas: 2009 Ford Fiesta
This wasn't so tough: It came down to the new Honda Fit or the Ford Fiesta. I picked the Fiesta — in spite of the fact that it didn't show up at any of the stateside shows as a finished production car — because I think it will be a game-changer for Ford. It's good-looking, has a wild interior and will hopefully bring an affordable entry-level car to a domestic automaker that needs it.
Kelsey Mays: 2009 Honda Fit
The Fiesta holds promise, but I'm going with the Fit. Though it looks similar, the redesigned model's improvements are subtly impressive. The backseat stows more easily, and the cushions now lift up for floor-to-ceiling storage. Nifty. Dashboard quality seems on par with pricier cars like the Civic and Corolla, and on the safety front, stability control is now optional. It'll soon be required on all cars, but as of now it's still rare among economy cars. Honda didn't bring the first Fit our way until long after it had debuted overseas; I'm glad its successor is here on time.
Joe Wiesenfelder: 2009 Honda Fit
Not having seen the real Fiesta — or its fuel economy or safety features — this one's a no-brainer. Of the economy cars out there, the Fit isn't the cheapest or most efficient (understanding that its mileage will be similar to the current generation's), but it gives a good mix of the quality and features needed to make an inexpensive car successful. With fuel prices — and hybrid car prices — high, the best way to burn less fuel immediately and save money in the long run is to buy a more affordable, more efficient car. The Fit is that car.

Mike Hanley: 2009 Honda Fit
The redesigned Honda Fit gets my nod because it is an efficient car in more ways than one. It's powered by a small, 1.5-liter four-cylinder engine, for sure, and is also a relatively small four-door hatchback on the outside. On the inside, though, there's enough room in the front and rear seats for adults. It also has a pretty large cargo area, and its high-quality cabin materials are another plus. I agree the Ford Fiesta is a nice-looking offering, but it won't be available in the U.S. for more than a year.