2008 New York Auto Show: 2009 Pontiac Solstice Coupe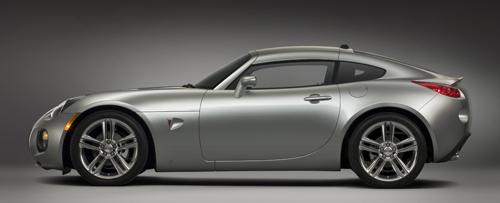 Competes with: Mini Cooper, Volvo C30, VW GTI
Looks like: Pontiac has a true inheritor for the Fiero
Drivetrain: 173-hp, 2.4-liter four-cylinder or 260-hp, turbocharged 2.0-liter four-cylinder with five-speed manual or five-speed automatic
Hits dealerships: Early 2009
There aren't many inexpensive sports coupes on the market, and Pontiac is hoping the 2009 Solstice coupe will catch fire and generate a buzz like the convertible did a few years ago.
The coupe is almost identical to the convertible in terms of the engines and transmissions offered, as well as the interior layout and materials. What's obviously different is the fastback body style, which really sets it apart from its sibling.
Without the clunky fold-down ragtop and its assorted mechanisms, there's a flat floor behind the front seats for storage; cargo room is virtually nonexistent in the convertible and doesn't look much improved here. The coupe isn't actually a fixed roof — the roof panel can be removed, just like on the Corvette, and is made of magnesium.
We wonder what the demand for the Solstice coupe will be, but much of it may depend on the price. Common practice usually prices coupes less than convertibles, and the 2008 vert's prices of $22,165 and $27,845 for the base and GXP versions are already pretty affordable. We'd still love to see a sub-$20,000 base price. Check out more photos below.