Subaru Closes Month With Small Tent Sale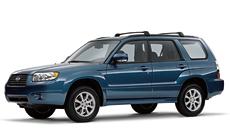 Usually when end-of-month incentives sales are announced, they come with some pretty inflated rhetoric: The Year-End Event, The Tent Sale to End All Others, The Event of a Lifetime (that's our favorite), and so on. The hyperbole can get a little tiring.
Kudos to Subaru for avoiding that, calling its modest, 10-day incentives boost what it really is: kind of small or at least short. The Small Tent Big Event begins today, and until March 31 Subaru will offers customers 0.0% financing plus $1,500 cash back on the 2008 Outback, or 0.0% and $2,000 back on the outgoing 2008 Forester. Customers can also get 0.0% financing on a lease deal ($179 a month for 36 months) on the 2008 Impreza. The financing teamed with cash back is impressive, especially on these two models. The Forester is a Cars.com Best Bet and the Outback was our 2008 pick as Best Car for Weekend Athletes.
Subaru Small Tent Event (Subaru.com)