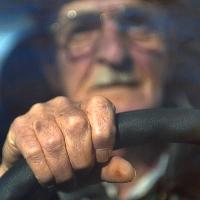 There are 29 million licensed drivers today who are 65 or older, but by 2020 that age group will account for an estimated 40 million drivers.
That raised the question, "What would make the roads safer for seniors and, as a result, the juniors who are forced to share the same roads?"
The American Automobile Association, in cooperation with the Mature and Older Driver Research and Training Center at the University of Florida, set out to study what seniors need and what automakers are giving them to help them stay safe in their cars.
"We set out to learn what would enable senior drivers to be safer longer and found two exciting things," said Dennis McCarthy, co-director of the university's mature driver center. "One thing we found was the vehicle features that make seniors safer, but the other was that we busted the stereotype that only big Buicks are seniors cars. Audis, Acuras, BMWs, Ford Fusions and Edges all have the features on the seniors' checklist of what they want in cars."
AAA compiled a list of nearly every vehicle sold in the U.S. -- though for obvious reasons Maserati, Ferrari and Lamborghini were excluded--- and whether they have the features deemed vital for the physical limitations of seniors, such as:
Short stature: power seats, tilt steering, adjustable pedals
Limited leg strength: higher seat heights, lower door thresholds, six-way power seats
Arthritic hands: four doors, thick steering wheel, keyless entry, keyless ignition, power mirrors and seats, large knobs and controls
Limited body motion and range: heated seats, tilt/telescoping steering wheel, lumbar adjustment, wider mirrors, height-adjustable seat belts
Diminished vision: larger audio/climate control knobs and buttons, visor extensions
The study also found demand for antilock brakes, side curtain airbags, and stability control.
"While these are features advised for all seniors, they are features advised for all drivers, regardless of age, because items that help seniors help younger drivers at the same time," McCarthy said.
The full list of cars and a checklist of which features they do and don't offer can be found at aaa.com/news. We've also posted a recent segment from "The Today Show" below about some of the vehicles that fit the bill and why.