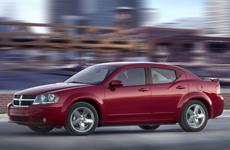 Chrysler is recalling its two new midsize sedans, the Chrysler Sebring and Dodge Avenger, due to defective electrical connectors. Nearly 181,000 2007- and 2008-model-year cars are involved in the recall, but the company says there have been no accidents involving the faulty equipment.
The bad connectors are part of the tire pressure monitoring system and can corrode and short out, leading to various electrical problems, including stalled engines, dead batteries and failing cruise control systems.
Owners will receive a notice from Chrysler regarding the problem, and dealers will fix it.
Chrysler recalling 181,000 Avengers and Sebrings (Motor Trend)