News on Honda's Three New Hybrids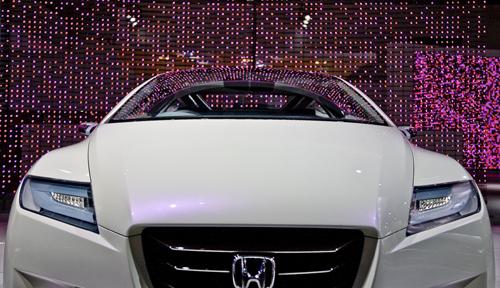 For some unknown reason, Honda picked late last night to drop word on its newest slate of hybrid vehicles. The big news is that it will debut a true Toyota Prius-fighter before the end of the year. It will be an affordable five-seat hatchback resembling the FCX Clarity fuel-cell vehicle we saw in L.A. last year. We'd expect this new vehicle to debut at next year's Detroit auto show in January because Honda stressed it would debut early in 2009.
Honda expects to sell 100,000 of these new hybrids in North America.
The other significant news is that Honda will introduce two other hybrids in the near future to sell alongside its Civic Hybrid. One will be a hybrid version of its redesigned Fit; the gasoline-powered update goes on sale later this year.
The third new model will be based on the CR-Z sports car concept that we can't wait to see on the road.
Honda has more specifics on the new hatchback, listed below for the technically inclined. Otherwise, let us know in the comments if you think Honda is making the right move.
More on the new five-seat hybrid hatchback:
It will have "high-value" amenities.
The battery and internal processing unit will be below the rear cargo area to allow for maximum cargo capacity.
It will include technologies to "assist more-fuel-efficient driving."
Its affordable price will make it the "best value in the segment."
Related
Video: Driving Honda's Hydrogen FCX Clarity, Part 1
Video: Driving Honda's Hydrogen FCX Clarity, Part 2
Honda Confirms Two New Hybrids
Honda Saying Iie (No) to Plug-In Hybrids
More Honda Fit News
More Honda News
More Hybrid News