Reader Review of the Week: 2009 Hyundai Sonata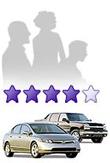 Our reader reviewer set out to buy a new car and figured he would go with a Honda Accord or Toyota Camry, but wanted to test-drive other vehicles in the midsize sedan segment. After taking the new 2009 Hyundai Sonata for a test drive, he was impressed enough to purchase one. A month into owning the car, he's very satisfied with his decision. Read the full review, and check out our own
first-drive impressions
. Post your own reader review
here
.
"I was going to buy an Accord or Camry when I decided to also test-drive the '08 Sonata SE. As soon as I got in I knew it had something special. I had not expected this out of a Hyundai. I couldn't find an '08 when I was ready to purchase it, so I decided to get the '09 Limited V6 instead. It offers heated leather seats and the works. I opted not to get the built-in Bluetooth or navigation (the fewer distractions, the better).
It offers an excellent, comfortable, quiet ride. After 30 days, here's the scoop: Mileage is about 17-18 mpg local, and I'm averaging 23-25 on the highway (not great, but not bad considering it's a 249-horsepower six-cylinder). The ride is very smooth and the trunk space is impressive. The main difference from the '08 is that the ride is smoother and the engine has more punch, the seats are plusher, the dashboard is cleaner and it has Audi-style redesigned headlights.
"So what if its resale value is not like its peers in its class? Consider the money you would have laid out for the others with the same features. If you're looking for value, style and performance in a midsize sedan, give this car serious consideration versus its competitors (Camry, Accord, Malibu and the like)."