VW Jetta TDI Diesel Mileage Announced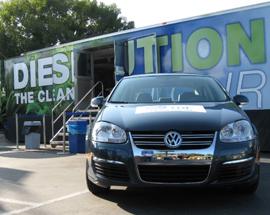 Diesel and VW fanatics have been anxiously awaiting mileage numbers for the first-ever clean-diesel Jetta, and here they are courtesy of the U.S. government: The four-cylinder TDI will get 30 mpg city and 41 mpg on the highway. That's 36% better than the current four-cylinder and 41.7% better than the current five-cylinder gasoline engines.
The bad news is that the current cost of diesel fuel is 19.7% higher than regular unleaded. Add in the fact that the TDI is expected to cost more than the base Jetta, and the savings aren't as great as many may have hope for.
Let us know if you think the TDI will sell well when it debuts later this summer.

Official EPA numbers posted for the '09 Jetta TDI - 30/41mpg (Autoblog)